Get your kids active in 2022 with Fit For Sport Holiday Camps this February Half Term for a camp full of engaging sports & activities running at The Academy of Woodlands
Fit For Sport holiday camps are the perfect solution to ensure your child enjoys a school holiday like no other as they invite your child to join them on a pulse-raising holiday programme full of sport and adventure this half-term & Summer. With a brilliant mix of skills for sports, energising activities to get children moving, creative sessions that encourage children to express themselves and much more – ensure your child doesn't miss a moment by securing their place today. Delivered by their passionate teams of sports experts, Fit For Sport ensure each day of your child's holiday camp experience is filled with opportunities to make memories like no other!
Claim 10% off Half Term Holiday Camps – enjoy a marvellous half-term with Fit For Sport by securing your child's spot now! The upcoming holiday camp will include a range of additional, exciting Jubilee themed activities to share in the celebrations...
Use code: EBMAYCAMP22 to claim your discount! Offer ends Sunday 15th May
Find your local camp page, further information about the exciting Holiday Camps ahead and confirm your booking now at: https://www.fitforsport.co.uk/holiday-activity-camps
If you have any further queries, please don't hesitate to call the friendly bookings team on 0208 742 4990 or drop them an email at enquiries@fitforsport.co.uk
How to book
For any further information including, help booking, safe practice information and Parent FAQ's please visit www.fitforsport.co.uk.
Weekly Booking Discount Available

Childcare Vouchers Accepted
Flexible Payment Options

Book now, pay later… Fit For Sport are always aiming to offer families flexibility with bookings. Don't let your child miss a moment of summer by using their handy instalment plan that allows you spread the cost of summer over monthly instalments.
Or call Fit For Sport's friendly bookings team on 020 8742 4990.
Prices & Times
| | | |
| --- | --- | --- |
| Full Day | 08.30 - 17.30 | £30.00 |
| Half Day | 09.30 - 16.30 | £25.00 |
Why choose us?
Fit For Sport Holiday Camps offer working parents flexible childcare solutions through multi-activity programmes within a safe, supportive and fun environment. All Fit For Sport staff members are trained, DBS-checked and full of enthusiasm to deliver fun and inclusive activities, to keep children entertained all day. Their great big summer of sport and activity is jam-packed with an exciting new activity programme that provides opportunities for children to access a range of new fun and enriching experiences. All activities are underpinned by the Fit For Sport Whole of Child philosophy that underpins all of their programming and is split into six categories as shown below: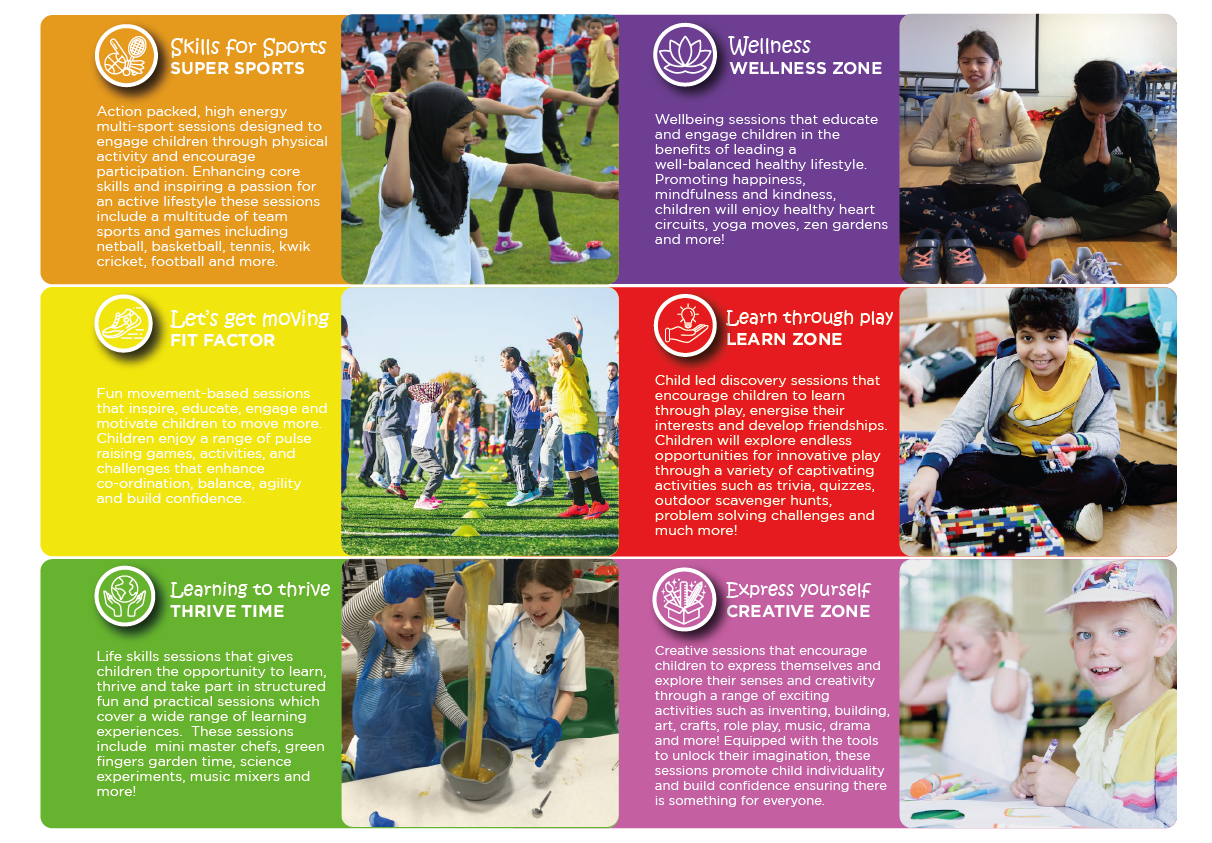 Their big summer of sport and activity will also include the introduction of exciting special events and summer weeks in focus that include themes/celebrations to deliver a range of multi-cultural exploration, activity inspiration and engaging team challenges… These include the highly anticipated Legacy Games, Ingenious Inventions, Wellbeing Warrior themes and much more, as well as visits from their partners at Nerf, Zoolab and JAG Tag who will offer experiences of a lifetime with the UK's trusted holiday club provider – Fit For Sport. There's something for everyone this summer at Fit For Sport.
Children have missed out on enough throughout the past year – have peace of mind that your child will be happy, active and make memories to last a lifetime throughout the summer by securing their spot at your local holiday camp this coming holiday!
As the UK's trusted holiday camp provider throughout the pandemic – Fit For Sport continue to deliver their market leading safe practice ensures their COVID secure holiday camps are a safe and engaging space for all families this summer.